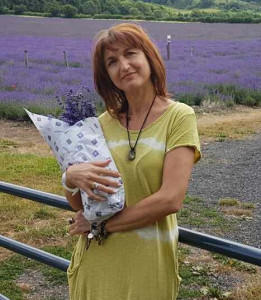 It is my pleasure to share my knowledge and skills with people for whom the harmony of the body and soul is equally important.
---
My name is Didi Raynova.The gift of energising people, giving them vitality and happiness is a real joy for me. For more than 15 years I have been a practitioner of Classic healing and Therapeutic remedial massage. Throughout this time, besides working and gaining experience I never stopped searching for ways to improve and learn new techniques.
Of particular interest to me were the cases in which I had to deal with problems caused by the ways we live and work. Nowadays more and more people complain of stress and tension causing frequent headaches, stiffness in the back and shoulders. Others suffer from swelling and joint problems and in most instances the causes are rooted in everyday life.
People are not giving themselves the time to rest and recuperate and take a few moments of silence and peace. Subsequently I became increasingly interested in alternative ways to eliminate pain and disease that occur as a result of our lifestyle. With this in mind I was drawn to the training and study of Reiki.
After becoming a Master Reiki Practitioner my desire for healing both myself and others led to me developing a method whereby I combine Reiki with the various massage techniques leading to an even greater capacity for the elimination of pain, improving the overall physical condition and balancing energy. As a result each client has their own customised treatment programme, which is specifically designed for their individual problem. This treatment is special, it not only offers physical comfort, but also communicating at an energy level with each person leading to a harmonization of the world in which we live. I believe I can contribute to a more rounded existence and deeper communication with the environment, using the techniques of these age-old practices.
Through my desire to constantly learn and develop my practice, more recently I have studied the Bowen technique and I am now a fully qualified practitioner.  The Bowen technique is a system of moves on the muscles, ligaments and connective tissue.  It is a therapy which uses subtle measured inputs to the body, stimulating the body to heal itself with minimal intervention.
Although the therapy can be used to treat many specific injuries and other health problems, it addresses the entire body, and restores balance via the autonomic nervous system.  From personal experience I have seen the Bowen technique reactivate the body's innate recovery process and bring clients a profound release from stress and discomfort.  Thus I am convinced it is an effective holistic treatment, which perfectly complements the other therapies I practice, and more importantly results in a content, energised and rebalanced client.
We are all connected with the energy of love, light and wisdom – this is our true nature which we often forget as we are so identified with our 'material' bodies. On a spiritual level we are all one, we are all connected. I strive to remember, seek and find this connection.
---
Free yourself from the unnecessary and be Happy!
Didi Raynova –  MBTAA, MBAuk
Bowen & Massage Therapist, Reiki Master